Bring Your Children and Your Selves to Religious Education Classes
---
Have your friends and neighbors ever asked about the religious education program at FUSN? Now is a great time to invite them to come visit and learn how the RE program can enrich their lives and the lives of their children. Learn more on the RE Resources page.
A calendar of RE events is located here.
The First Unitarian Society in Newton's Unitarian Universalist Religious Education (RE) program includes, under one administrative umbrella, Sunday morning Nursery care and classes for children up through Grade Seven, a comprehensive Coming of Age Program, Sunday evening Youth Group, and Adult Religious Education, forming a lifespan religious education program.
Our Lifespan Religious Education Goals are to help children, youth, and adults:
become their best selves and be effective in community
develop a positive UU identity

draw spiritual meaning from life experiences

develop resiliency and a sense of connection to something greater than themselves
We transform ourselves, our community, and our world by intentionally living our UU principles.
Nursery through Grade Seven
There are two paid youth teachers and two adult staff members in charge of the Nursery, which is open to babies and toddlers up to age three from 10:10 a.m. until 11:30 a.m. Sunday mornings.
The children's program is a cooperative model where parents are part of a 4-person teaching team or volunteer in another role every year. Each class, from Pre-K through Grade 7, has a specific curriculum for each year, described in the 2015-2016 FUSN Lifespan Religious Education Brochure.
Coming of Age
This rite-of-passage program primarily involves 8th graders, bridging their experiences with FUSN's Nursery-through-7th-grade Sunday morning program to the Youth Group. The COA program has four parts: Comparative Religions, Our Whole Lives Sexuality Education, social service, and a year-long relationship with an adult mentor who is a member of the FUSN community. There is a weekend retreat in the fall and monthly Friday evening program meetings throughout the year, culminating with a graduation service in May attended by the FUSN community.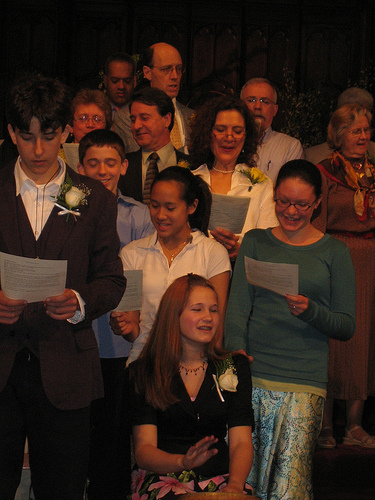 Youth Group
The Youth Group is comprised of high school age youth (grades 9-12) who gather weekly for worship, fun, social action, and deepening relationships. It is an ongoing group that seeks to foster spiritual depth, clarify both individual and universal religious values and create a peaceful community on Earth. A part of the Unitarian Universalist youth movement, this group welcomes all high school students in our faith community.
Adult Religious Education
This program aims to suit the needs and interests of FUSN congregants as the community identifies them. Programming for adults has always been an important part of FUSN's tradition, and the Adult Education Committee, with strong staff support, identifies community members who have special skills, experiences, and expertise to share. Recent courses range from Bible Study, to Mindful Parenting, to Saints and Sinners. Download the 2016 catalog.
Personnel
The First Unitarian Society in Newton Lifespan Religious Education Program is staffed by a full-time director of lifespan religious education, a part-time assistant director of religious education, and a part-time youth programs coordinator. They work together with the lay-led Religious Education Council to provide programs for the society's lifespan learning community.
Director of Lifespan Religious Education: Rowan Van Ness, rowan [at] fusn [dot] org

Assistant Director of Religious Education: Beth Walton, reassist [at] fusn [dot] org
Youth Programs Coordinator: Dani Negus (dani [at] fusn [dot] org)
Phone for all Religious Education staff: 617-332-3438
617-332-3438