Sandy Island Draws FUSN Members Back to Nature
---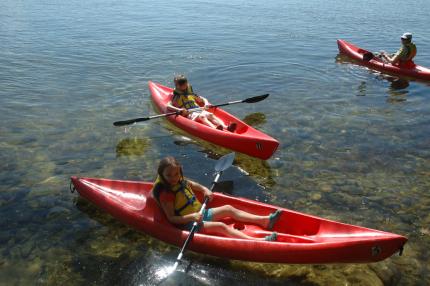 Time to sign up for the annual FUSN retreat at Sandy Island over the Memorial Day weekend May 28-30, 2016. Please download the registration form (PDF) and return by mail no later than May 20. See details and costs on the form.
Sandy Island, a family YMCA camp in Lake Winnepesauke, NH, is a lush island with a compound of community buildings and outdoor play areas surrounded by a variety of cabins and small residences. Each year some 200 FUSN community members spend Memorial Day weekend together there, enjoying the outdoors, shared activities, and each others' company. Many new friendships begin at Sandy Island.

Meals are prepared and served by the Sandy Island staff in the dining hall. The main lodge and its ample front porch is the site of arts and crafts, games, dancing, book discussions, and children's activities. Sports from softball to ultimate Frisbee to Capture the Flag to yoga are held on the playing fields. Some activities, like the talent show, singing around a bonfire, and Trivial Pursuit contest, are annual traditions but new activities are added as well. Community members lead activities, bring the S'mores supplies, etc. An open-air service is held Sunday mornings and, through the weekend, several discussions touch on spiritual, political, and social action topics.

Weather can vary. In the warm and sunny years, there is lots of swimming, kayaking, outdoor sports, and nature walks. If the weather is cool and damp, activities move indoors with gatherings by the fire and full use of the lodge, library, and dining hall. Weather can be quite variable—bring warm clothes and your bathing suit!

Sandy Island registration forms are distributed via the newsletter about one month before Memorial Day. Because of limited space, only FUSN community members may attend—no guests. Some group residences have bathrooms, but most cabins do not. Several large bathhouses with hot showers are located near the cabins.