FUSN Warmly Welcomes Newcomers
---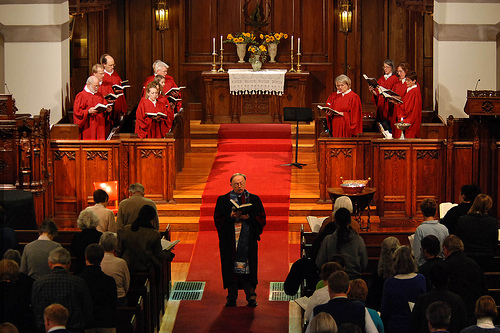 The ministers, staff, board of trustees, and members of First Unitarian Society in Newton are committed to being a welcoming congregation for all who are interested in discovering what the community has to offer.
The service begins at 10:15 a.m., September through mid-June. People dress comfortably. When you enter the FUSN sanctuary, you will be greeted and handed an order of service by members ready to answer your questions.
The church is located in West Newton Square near where Route 16 crosses the Mass Turnpike. See map.
Services offer vibrant, accessible music, preaching with a clear message relevant to members' lives, and content from many of the world's religions as well as modern-day poets and writers.
The church year is studded with events that range from the purely social--community breakfasts and the annual dinner--to fun and fundraising occasions such as the Holiday Fair and the Youth Coffee House, which supports social justice.
RE aims to teach children to value the search for truth and meaning, to cultivate strong moral character, to promote social justice, to learn about other religions, and to develop tolerance.
Membership is a declaration that you share the values and goals of the society and the Unitarian Universalist movement as well as a personal commitment to be in relationship with the members of this society.