Music Program Enriches Services
---
Annual Choir Potluck Dinner & Rehearsal: Wednesday, Sept 7
Dinner at 6.15pm, rehearsal at 7.30pm
Sanctuary Choir
Sanctuary Choir rehearses on Wednesday nights, 7.30-9ish, and on Sunday mornings at 9am. We usually work about four weeks ahead, so if you'd like to sing on a particular Sunday, you can make that small time commitment. Or you can become addicted like the rest of us and come all the time. And if you've got an instrument sitting in a closet somewhere, haul it out and join the FUSN Intergenerational Chamber Orchestra. It is a joy to witness the mentoring that goes on every week between our children and adults as they play together. FIGCO rehearses on Sundays after the service.
Music has a rich history of professional and lay leadership and a vibrant role in services at FUSN. The music is chosen to complement each worship service; consequently, the musical styles vary. In addition to professional staff, a number of professional and amateur musicians offer their considerable talents in classical, jazz, folk, and world idioms to enhance the worship services. The congregation is encouraged to participate in each service with hymn singing and instant choir opportunities.
Several ensembles have sprung from congregational impetus: the Gospel Choir, the drumming ensemble, Creationdance, and the FUSN Inter-generational Chamber Orchestra. The music budget includes monies for occasional guest artists, which have included drummers from Mali, professional Baroque trumpet players, and Klezmer musicians.
Singers of Diverse Ages
The volunteer Sanctuary Choir of experienced and novice singers is open to any adult interested in a rewarding choral music experience-one that provides many opportunities for members to experience spirituality and community through music. The music ranges from classical through contemporary, jazz and folk. The choir performs two anthems and two responses at most services. There are two Music Sundays, one in November and one in March, each year; at these, and on other occasions, the choir presents extended choral works by composers such as Bach, Copland, Brahms, Fauré, Cooman or Vaughan Williams. Currently, two professional singers, a soprano and a bass, support the volunteer singers.
The choir provides a smaller community within the larger congregation where the volunteer members can make friends and deepen their connections to the society. The choir rehearses every Wednesday evening at 7:30 p.m. in the Chapel and every Sunday morning at 9 a.m. in the Sanctuary before service. Auditions are not required and visitors considering joining the choir are most welcome to attend a rehearsal or to contact the director by phone: 617-527-3203 or by email: music [at] fusn [dot] com.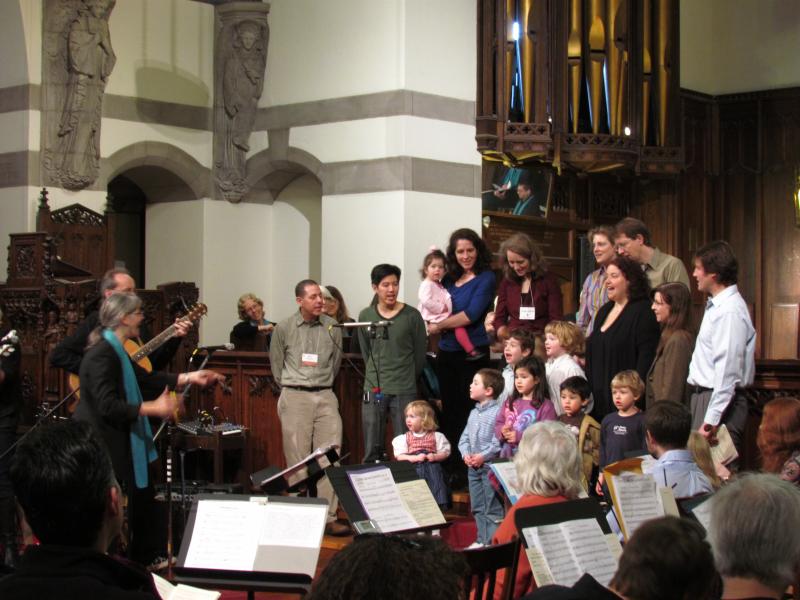 On the second Sunday of each month, the vocal quartet Vermilion, Amelia LeClair, Music Director, presents a Vespers service in our Sanctuary. 7-7.30pm.
Instruments in the Sanctuary and Beyond
Instruments in the Sanctuary include a 1911 Hook & Hastings four-manual organ that supports the congregation in singing hymns and the choir in singing its repertoire. The organ is also used to offer solo music from all periods of pipe organ composition. A 1984 Steinway B piano, acquired through a generous gift, is used for services and occasionally for concerts.
Other instruments include a five foot, ten and one-half-inch Model L Steinway in the Parish Hall. There is a Yamaha C5 grand piano in the Children's Chapel. Eleven tower bells, comprising a Westminster Peal, make possible regular chiming by trained volunteers before and after services and an occasional chiming concert for the community. Finally, five drums - djembes and tubanos - provide West African-style hand drumming for a small group of enthusiasts.
Music Calendar
Music Staff
Anne Watson Born, director of music ministry at FUSN,

is also the music director of the Nashoba Valley Chorale. For several years she was an adjunct professor at Roxbury Community College in Boston, and before that was an assistant professor at Bristol Community College. She was also the music director of the Brookline Chorus and the founding artistic director of the Women's Chorus of Boston and the Avenue of the Arts Chorale. She is currently the Board Chair of the Greater Boston Choral Consortium, the Community Choirs Repertoire and Standards Chair for the Massachusetts ACDA chapter, the Director of Membership Development for the UU Musicians Network, and a District Liaison to the UUMN for Mass Bay. She is a Credentialed UU Music Leader. Ms. Watson Born holds a BA degree in music from University of the Pacific and a master's degree in choral conducting from New England Conservatory. She lives in Brookline with her husband, Rick, and two obstreperous dogs, and visits her daughter in Boulder, CO as often as possible.
FUSN Music Director Emerita Roberta Berry Humez is a singer, conductor, pianist, and founding director emerita of Youth Pro Musica. An active member of UUMN, AGO, and ACDA, she serves on several music boards and civic arts enterprises. Since 1962 she has worked with a dozen organists and served under seven ministers in this society. Ms. Humez retired in 2007 and was named director emerita after serving the society for 45 years.
Carson Cooman, organist at FUSN, is an American composer with a catalogue of works in many forms: ranging from solo instrumental pieces to operas, and from orchestral works to hymn tunes. He is in continual demand for new commissions, and his music has been performed on all six inhabited continents. His work is published primarily by Musik Fabrik, Lauren Keiser Music Publishing, and Wayne Leupold Editions, Inc. Cooman's music appears on over twenty-five recordings, including ten complete CDs on the Naxos, Albany, Artek, and Zimbel labels. Cooman's primary composition studies have been with Bernard Rands, Judith Weir, Alan Fletcher, and James Willey. As an active concert organist, Cooman specializes exclusively in the performance of new music. Over 130 new works have been composed for him by composers from around the world, and his performances of the work of contemporary composers can be heard on a number of CD recordings. Cooman is also a writer on musical subjects, producing articles and reviews frequently for a number of international publications. He serves as an active consultant on music business matters to composers and performing organizations. For more information, visit www.carsoncooman.com.