Join a Vibrant Community with UU Values
---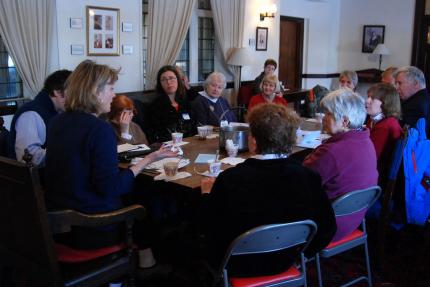 Newcomers and longtime visitors who feel they have found a home at FUSN are welcome to become members. Membership is a rich experience with both the privileges and responsibilities of belonging deeply to a community. Joining FUSN is a declaration that you share the values and goals of the society and the wider Unitarian Universalist movement. It is also a personal commitment to have a relationship with the members of this society who, collectively, seek spiritual growth for themselves and their children, share the wisdom of many religious traditions, and offer service to humanity and acknowledge a reverence for the earth.
Expectations of Members
FUSN has broad expectations of members, but how these expectations are met will vary from person to person and over time. Mostly, members make a commitment to reflect periodically on these expectations and on their own involvement with the congregation. The expectations:
• Attend Sunday services with the congregation;
• Actively pursue your own spiritual growth;
• Join in the work and play of the congregation;
• Pledge at a level commensurate with your commitment;
• Provide service to the wider community; and
• Connect with the wider UU movement. (Those considering membership take the Everything UU course taught periodically by the ministers and director of religious education to learn more.)
Benefits of Membership
Having a place to worship, make friends, pay attention to spiritual matters, receive support, seek out pastoral care—these are all benefits available to everyone in the FUSN community. However, many people report feeling a deeper sense of connection to the society and fellow members once they have officially joined. There is a sense of belonging and stability that often accompanies formalizing the relationship. Other benefits are more concrete: free access to facilities and minister for weddings and funerals, reduced building rental for special occasions…together, members jointly own the building and the endowment. That's something!

In addition, only members can confer ordination on the ministerial interns and vote to call or install a new minister. These are joyous occasions in the life of the congregation, and only members can fully participate. Finally, being a member allows you to fully live the fifth principle of our faith: the right of conscience and the use of the democratic process within our congregations and in society at large. Only members can vote at official congregational meetings, hold an elected office of the congregation, and represent the society at district or national meetings.
Steps to Membership
If you would like to join the society, drop by the Member Services Table at Coffee Hour and ask for an Intent-to-Join card or contact the Member Services Committee chair.