FUSN Folks Engage at the General Assembly
---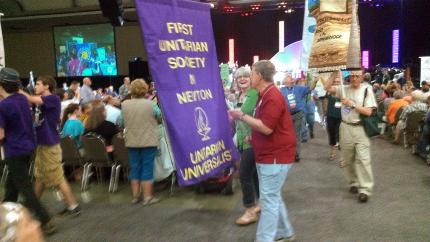 The First Unitarian Society in Newton was represented at the annual Unitarian Universalist Association of Congregations (UUA) General Assembly, June 19-23 in Louisville, Kentucky, by a host of FUSN members—five delegates on site, three participating remotely, several UUA leaders, and most of the FUSN staff.
Elected FUSN delegates Julie Brody, Patsy Leibensperger, Carolyn Mapes, and Jacki and Pat Rohan were in Louisville. Delegates Bev Droz, Jacqui James and Gordon Moriarty participated off-site.
Other FUSN folks in attendance were Minister Erin Splaine, incoming Assistant Minister Meghan Cefalu, Music Director Anne Watson Born, Youth Coordinator Rebecca Hinds, David Pettee, Michelle Walsh, and FUSN grandma Kay Montgomery.
Our dignitaries from FUSN included UUA General Counsel Tom Bean, UUA Parliamentarian Ned Leibensperger, and UUA Financial Advisor and Board Member Dan Brody.
Anne Watson Born was the music leader for the Church of the Larger Fellowship service. Carolyn Mapes rocked the house as lead singer on one of the songs while Tom Bean, Rebecca Hinds, and Jacki and Pat Rohan sang in the choir.
Among business during the assembly, the delegates elected Jim Key as the UUA moderator; adopted the Statement of Conscience – Immigration as a Moral Issue; and voted for three Actions of Immediate Witness for consideration by congregations:
Consider Divestment from the Fossil Fuel Industry
Amend the Constitution to say that Corporations are not Persons and Money is not Speech
Condemn the Racist Mistreatment of Young People of Color by Police.
Actions of Immediate Witness allow Unitarian Universalists to respond quickly to social issues and can be used by congregations in local social efforts.
It was a truly inspiring event with many terrific speakers and educational breakout sessions, great music, and a chance to greet some old friends, including the Reverends James Ford, Catherine Senghas, Anne Bancroft, Chris Bell, and Barb Greve.
—Pat Rohan
Learn more about the GA, focused on moving "From Promise to Commitment"