Take Part in the FUSN Garden Project
---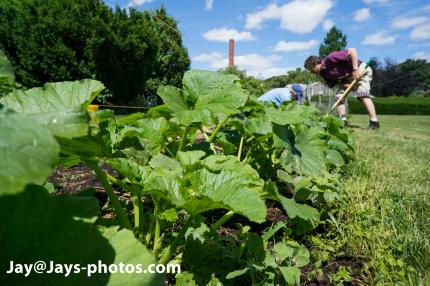 FUSN's RE/Social Justice Circle is cultivating a community garden plot in Waltham that will be used to grow food for a local food pantry and families in need.
See beautiful photos of the growing garden by Jay Sullivan.
The garden is located at 240 Beaver St in Waltham at the UMASS Agricultural Extension property, which is also the home of Waltham Community Fields. To find our plot, go along the road (Beaver Street) to the east of the buildings and go through the opening in the tall hedge.
FUSNites Paul Antonucci and Lois Shapiro are leading this project and Jackie Colby has been actively involved in helping to determine the best crops to grow for the food pantry.
If you plan to help on a specific day, please alert the team by emailing fusn-garden [at] fusn [dot] org.
This project will continue throughout this coming year. This is a great way to spend some quality time doing something good for the community while being outside and 'feeding your soul.' It is also a terrific way to learn about gardening and teach children about growing food. Families are welcome to participate!
This project can accommodate whatever commitment you can make, ranging from a couple of hours a year to help with garden tasks to a more regular commitment (weekly, monthly) to tend the garden through the growing season or raise seedlings indoors before the season starts. You can read periodic notices about what help is needed in the garden and when via the FUSN General Email List.
If you are interested in making an on-going commitment to this project and/or helping to organize it, please email fusn-garden [at] fusn [dot] org.
Here is a map: