Members and Newcomers Enjoy Sharing Meals
---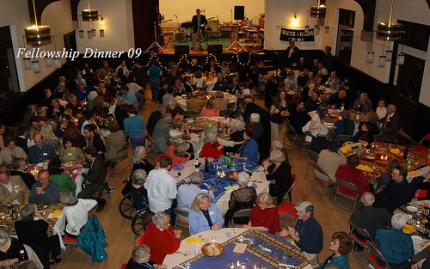 The congregation finds many opportunities for fellowship over a meal, from our community breakfasts to all the meals shared in common on our holiday weekend retreats to lunch at the fair and cocoa and cookies on Christmas Eve.

Community Breakfasts
The Community Breakfasts are at 8:45 a.m. in the Parish Hall and are almost always the second Sunday of the month. The breakfasts were begun a number of years ago by the Member Services Committee as a way to foster intergenerational socializing and to enable newer people to get acclimated to the community. Ron Margolin is the volunteer head chef, ably assisted by three or four other volunteers in addition to a team of regulars who prep, set up the Parish Hall, and serve. The food is ample, varied, delicious, and a true bargain. All the profits go toward kitchen equipment and improvements. Volunteers are always welcome to join the teams—most particularly in cleaning up after the breakfasts.
Dinners for Seven
These dinners occur twice a year, when the Member Services Committee can sponsor them. Hosts volunteer their homes and guests, who sign up at Coffee Hour, are assigned to a host who, in turn, assigns a dish to bring. The uneven number ensures room for single people, and the evenings are a pleasant way to meet people.
Fellowship Dinner
The Annual Fellowship Dinner is the largest purely social event of the church year. Teams of volunteers transform the Parish Hall into a large, pleasant dining room, another team hosts a one-hour wine and hors d'oeuvre party upstairs, and still another team plans and cooks a wonderful meal. Guests are served dinner by a team of Coming-of-Age students, and afterward, while the clean-up team gets to work and clears the floor, a live band usually plays for dancing. At some point in the evening, the board chair and the canvass chair offer a brief update on the fundraising campaign.